Water Heater Repair In Los Angeles
If you have any problems with you water heater or water heater valvue we can help. Pasadena CA Plumbers are the Leading and trusted experts for any water heater related issues.
Call A Plumber
Water Heater Repair & Replacement
Avoid cold showers and keep your water heater functioning like new. Whether you need to fix your water heater or replace it with a brand new one, Pasadena CA plumbers can help. See our full Service area below to find a local plumber in the Los Angeles area.

Get peace of mind with your new water heater if your new Pasadena Plumbers installed water heater fails within the warranty period, we'll fix it at no charge (30-40-50 Gallon Gas Tank Style). We offer both conventional and tankless water heater options, rebates and eco-friendly discounts.
Free Home Water Heater Estimates
If you want a water heater repair or suspect a problem, call Pasadena CA Plumbers today. We are the experts at repairing water heaters and if necessary, helping you unerstand your options for water heater replacement. We will walk you through the benefits of tank vs. tankless and electric vs. gas water heaters to help you make an educated decision and make sure you're happy with the job before we leave.
If you want to upgrade to a tankless water heater or an electric water heater, or you need someone who is experienced in fixing all varietys, call us today. We serve all of Los Angeles, and surrounding Southern California neighborhoods for all your water heater repair and replacement needs.  Most importantly we offer FREE in home estimates for residential tank type Water Heaters.
Tankless (or instant hot) water heaters require a paid house visit.
What's Wrong with my Water Heater?
below is the most common problems to determine if a water heater repair or replacement is an option for you. 
Not Enough Hot Water
If you're running out of hot water quickly, there are a few things to check. First, take a look at your water heater's thermostat. It could be as simple as adjusting the heat higher so the water gets hotter. If you've had issues with hot water supply for as long as you've had the heater, your water heater's tank might not be big enough to supply the hot water you need for the house or building.
It could also be possible that your tank is leaking or that the dip tube, which transfers cold water to the tank, is broken or cracked. The heating element, burner (in a gas unit), or wiring (in an electric unit) could also be broken. Professionals can fix all of these problems.
Water is Very Hot
If your water is way too hot, the problem is probably with your heater's thermostat. Check to see if it's turned too high. If it is properly adjusted, it could be malfunctioning. Mark its current position and then turn it to a cooler setting. Wait a few hours. If the water is still not cooler than it was before you turned the temperature down, it's because the thermostat is broken. 
If the water coming out of your faucets is too hot or it steams, it's probably because the water heater isn't shutting off at the temperature it's supposed to. This is probably because the temperature pressure (TP) relief valve is malfunctioning. The water heater valve replacemant is an easy fix!
Water Takes Too Long to Reheat
If your water takes too long to heat up after the tank is emptied, it's because your heating element is not working properly. This could be because the heating element should be replaced or because the power supply is struggleing to reach the heating element.
Slow-heating water could also be the sign of a  much more serious issue. However If sediment or rust has built up in your water tank, it could be insulating the element. This insulation will force the element to work way harder to heat up the water, causing a pressure and heat build up that could lead to rupture in the tank.
  Water is Rust Colored and Smelly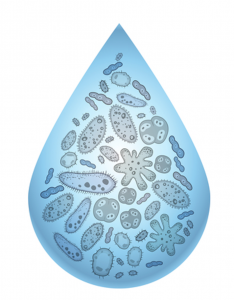 If your water is rust colored, smells and tastes weird, the first step is to find out if the problem is with your heater or your waters source. If all your water (cold and hot) or only your cold water is discolored, the problem is your source water. If only the hot water is discolored or smelly, it's because there's a high concentration of sulfates or other minerals in your water heater's tank. These minerals are heated and "cooked" when the water is heated and released into your homes water. See if flushing the tank helps.  
If the problem persists after a few flushes, have a professional replace the anode rod in your water heater. This device acts like a kind of rust "lightning rod." It keeps your tank from rusting out from the inside by corroding in its place.
Valve or Tank is Leaking

If the water tank of your heater itself is leaking, it has been badly corroded from the inside. At that point, the only good way to solve the problem is to buy a new tank. This should be done as soon as you can.
If the valve below the tank is leaking, however, you may still have a few options. Usually, the thing you'll notice leaking will be the temperature/pressure relief valve. This opens to relieve high pressures and temperatures inside the tank and lets out water in the process. If it's leaking, then it can't do its job properly or is opening to soon. If you notice a problem with your TP valve, call a professional for a diagnosis. The TP valve is often a warning for greater problems, so if you call fast, we may be able to save you from a more expensive repair.
Aditional Plumbing Services
Drain Cleaning Los Angeles
Garbage Disposal Repair Los Angeles
Grease Trap Cleaning Los Angeles
Water Jetting Service Los Angeles
Water Heater Repair in Los Angeles
Leak Detection and Repair in Los Angeles
Tankless VS Conventional Water Heaters
Looking to install or replace thewater heater you have? We'll work with you to determine your needs and recommend the best solution based off of those wants and needs. Below are the most important factors to consider between tankless water heaters (heats cold water on demand only as you need it) and conventional water heaters (use gas flame or electric heating element to heat the water) and to help you make an good decision.
Conventional Water Heater
Depending on your area's utility costs, gas water heaters are typically less expensive to operate than an electric.
Easy installation process (if replacing existing conventional water heater).
Can handle a large amount of water usage.
When your power goes out, there is a lot of hot water for a short time period.
Generally less expensive than tankless water heaters.
Tankless Water Heater
Endless fast hot water supply
More energy efficient than conventional hot water tank (by about 50%)
Require less space in your home
Instant hot water
6-10 Year Water Heater Warranty

If your installed Water Heater (30-40-50 Gallon Gas Tank Style) fails within the warranty period, we will fix it at no charge. And that includes the labor! We are talking about any failure not just tank failures like our competitors cover.  If it leaks or breaks during your warranty Pasadena CA Plumbers will install a new water heater for free, no questions asked!

GE Water Heater Owners: Due to manufacturing and design issues beyond our control, we do not repair or replace  parts on General Electric water heaters.  
Alan – Altadena, CA
"Every step of the way, these guys were the very standard of courteous and professional. What they did was clearly explained, with the pricing carefully outlined. Add to that it was executed with lightning speed, meaning I was more than pleased to have chosen this company. A win in the midst of a really big job."
Wang H – Monrovia, CA
"This being my first experience with your company, I was very impressed and satisfied with the services provided. After helping me, the technician explained the extended service plan, which I purchased as well as offering to have the main office contact me about a new purchase and installation quote for both toilets in my condo. I am very happy!"
Toilet Problems Try this! It's every persons worst fear. You're at a friend or strangers house, you finish doing number 2 and flush the toilet, but instead of going down, the water comes up along with whatever you just deposited in the bowl. Would...
read more
Most of the time, we let things go past due that need to be done because we forget about them. Our cars get thousands of miles over matinence before we take them in for an oil change. The big menial task at work keeps getting pushed back after all the other...
read more
We will talk about the 10 things never to put down your garbage disposal. When useing your Garbage Disposal always remember its not a trash can. Garbage disposals are very conveniant but are not designed for everything! No matter how aweome yours is you...
read more
(626) 263-2998
Book an estimate or talk to a PlumberToday
Pasadena CA Plumbers has been proudly serving the city of Los Angeles and surrounding areas for over 50 years! Nothing stresses homeowners and business owners like the task of handling plumbing issues we all know it can be annoying. From the clogging problems to the leak repairs, let us take that weight off your back.
 Our Plumbers are the most trusted and respected in the Southern California area because we are committed to extraordinary service and extraordinary results. Our professional and courteous team makes sure your  plumbing issues are solved for the most affordable price. When we do the job we make sure its done right for LONG-term results. We cover all of the Los Angeles area!.
 We provide and install a variety of plumbing equipment, appliances and supplies. We also offer a complete range of inspections and troubleshooting. Most customers need plumbers for a variety of reasons like flooding kitchens, bathrooms, basements, backed up toilets,  leaky faucets, new fixture installations, and emergency plumbing services. Most people do not know much about their plumbing system and thats why we started our blog. We can help you understand your Plumbing system with our helpful customer service and blog!
  Our certified team of licensed plumbers are knowledgeable, and abide by local building codes and industry standards. We have a working familiarity with commonly occurring plumbing issues in local homes and businesses. We will always find the resolution to your problem. No matter the size of the project big or small, we have the tools and experience to get your home or business running at top efficiency as soon as possible.
  We have an extreme wide range of services for residential and commercial Plumbing. We can be called on the event of any plumbing emergency, 24 hours a day 7 days a week. Call us or schedule an appointment today!